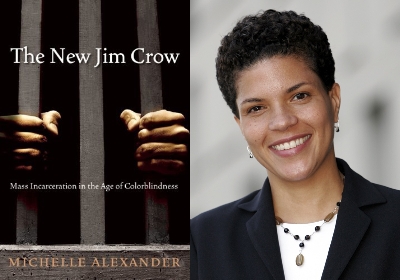 I think Michelle Alexander's preface for this book needs to be reiterated, especially for those who criticize her book for its premise, not its content to support that argument. Her book is not intended for everyone; it is for people who are aware of and against racial inequality in the United States. This book isn't intended to convert others; it's to mobilize those who know it exists.
In my line of work in the nonprofit sector, I work closely with the re-entry population and programs designed to assist them. I've befriended ex-offenders, some of them still under supervision, some even still incarcerated. Because I already have faces I associate with Alexander's thesis, I think I processed this book in a different way that others who haven't interacted with the correctional institutions would have.
It doesn't serve much of a purpose for me to write a review of her book in the way that I do with other novels I read because I can't assess it based on how convincing it was for me, so I'll write this as a basic overview.
Michelle Alexander's book is thorough and well-organized by chapter; a rather systematic researched approach. My only complaint is her last chapter, written to drive her arguments home, which is a little all over the place. Aside from the last chapter, which still manages to wrap most things up, even if a little less effectively than the conclusions of her individual chapters, it is a powerful, devastating book filled with highly cogent arguments. There is a potency in this book and urgency behind her words that I haven't felt in other arguments.
Despite the fact that she states that she has a specific audience in mind, I still recommend that as many people as possible read this, at least from a critical theorist standpoint. It's more than food-for-thought. Even if you don't feel convinced by this book, I hope it enables all to question the system and the institution that structures and defines racial relations in today's America. Please don't write off Michelle Alexander based on the premise; consider the flaws in all facets of the institution.